Geopier
®
Replacement Rammed Aggregate Pier®
Overview
Geopier®, a Rammed Aggregate Pier® system, (RAP) is a replacement, aggregate pier, ground improvement method used to improve shallow to intermediate, soft clay, loose silt, and loose sand soil for support of shallow foundations. RAP improves soft soil and fill by vibration, compaction, and ramming of thin lifts of crushed rock into a drilled hole. Soft soil is removed from the ground and then very dense, high quality crushed rock is compacted into the drilled hole which expands the hole into the adjacent soil. The cavity expansion effects increase the strength and stiffness of adjacent soil. The compaction and ramming of thin lifts of crushed rock increases the strength and stiffness, increases soil bearing capacity, and reduces soil compressibility. RAP improved soil can support heavier loads on conventional shallow spread and strip footings with reduced settlement.
RAP is used to support footings, slab-on-grade, structural mats, embankments, MSE walls, and industrial foundations. The ideal applications for RAP occur at:
Soft clay, silty clay, silty and sandy clay, and loose soil sites.
Undocumented fill sites.
Sites where LEED® points are desired with use of recycled concrete.
Sites where drilled holes will stand open during construction.
RAP 4-Step Construction Process
Testimonial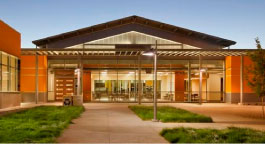 UC Davis Brewery/Winery and Food Pilot Facility
Davis, CA
"The recycled concrete content in the Geopiers really made this a double win as we saved money for the project instead of using concrete drilled piers and we enhanced sustainability for the project."
John Westphal
KPW Structural

Technical Details
The RAP system is appropriate for shallow to intermediate depth soft clay, silt and clay mixtures, and silty and clayey sand soil. The RAP ramming tool is beveled to impart horizontal and vertical forces into the soil at the edges of the drilled hole. This compaction and ramming produces some cavity expansion effects that increase the shear strength, increase over consolidation, reduce void ratio, and increase stiffness/modulus of the composite soil. RAP behavior exhibits high side friction along the edges because of the bonding of the crushed rock with the soil. As RAP is loaded, high friction forces at the edges resist the load and push the footing stresses lower into the soil/RAP profile. A RAP is akin to a large spring that is confined in a soft spring matrix, where the stiff spring attracts load, bulges and sheds load, and resists compression by virtue of the high RAP stiffness.
The depth and quantity of RAPs are determined by geotechnical conditions and structural load demands of the project. Most RAPs are 7 to 25 feet (2.1m to 7.6m) deep and occupy about 20% to 40% of the footing bottom. Full-scale load tests are performed on RAP projects to confirm design bearing capacity.
RAP are installed with excavator rigs equipped with a hydraulic ramming attachment. The ramming attachment and tool are designed to densely compact 18" to 24" (457mm to 610mm) thick lifts of rock. Farrell installs RAP with drill diameters of 18" (457mm), 24" (610mm), and 30" (762mm) diameters. The ramming effect results in coarse sided finished RAP that have finish diameters greater than 100% of the neat drill diameter.
Geopier, Impact, and Rammed Aggregate Pier are registered trademarks of Geopier Foundation Company, Inc.