SAFETY First!
Our most important action every day!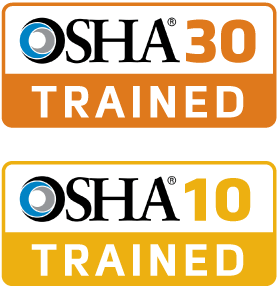 Farrell's number one priority is to ensure that our employees, customers, and partners return home safely to their loved ones every night. You are our greatest and most valuable asset.
Most importantly, we prioritize safety because simply, it's the right thing to do. All summed up, Farrell's safety policy commands a "safety first", "zero injury", and "zero near miss" work environment. Our safety program is not just a priority or a policy, but instead Safety First is a core value of our company.
We take action with OSHA 10 and OSHA 30 training for our crew and superintendents. All Farrell superintendents get the OSHA 30 hour training to support our safety policy. We elevate the role of the buddy system, watching out for each other: get the training, take care in action, become 360 aware, and watch your buddy. Your buddy's are customers, partners, and fellow employees.
Farrell's Safety Manager regularly delivers safety training, safety updates, regular site and safety reviews, and elevates Farrell's safety policy. The Safety Manager ensures that employees understand a safe working environment, grasp and comprehend operating instructions for every tool and every piece of equipment they use in their work.
Safety Policy regular actions include:
OSHA 30 hour and 10 hour crew training/certification
Tool and equipment operation training
Daily tailgate safety talk
Weekly safety meeting
On Site Management Safety Review
Job hazard analysis and Activity hazard analysis
Regular first aid and CPR training and updates
Semi-annual safety for managers and crew