Auger Cast Column™ & Drill Displacement Column™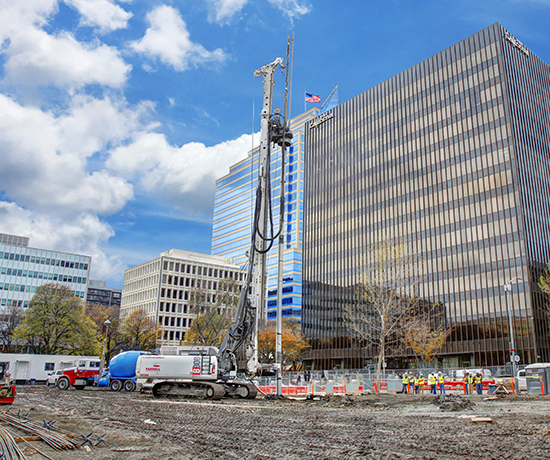 The Frederic, Sacramento. 16-inch DDC by 55-feet deep.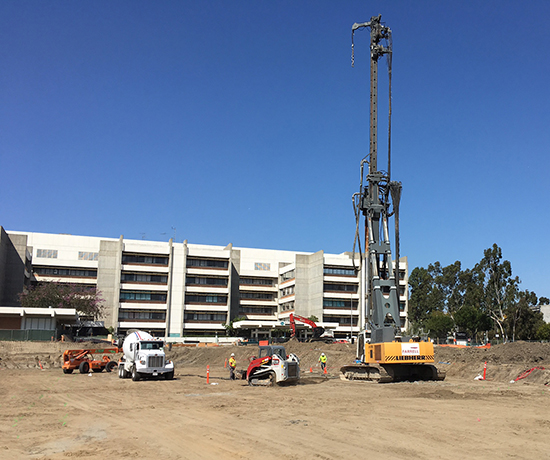 Martin Luther King Hospital East PKS, Compton. 18-inch DDC by 35-feet deep.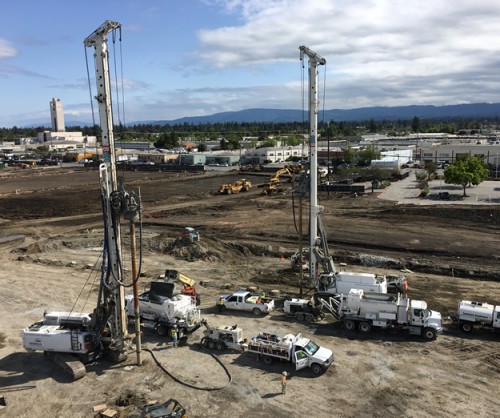 Stanford Campus, Redwood City. 18-inch DDC by 35-feet deep.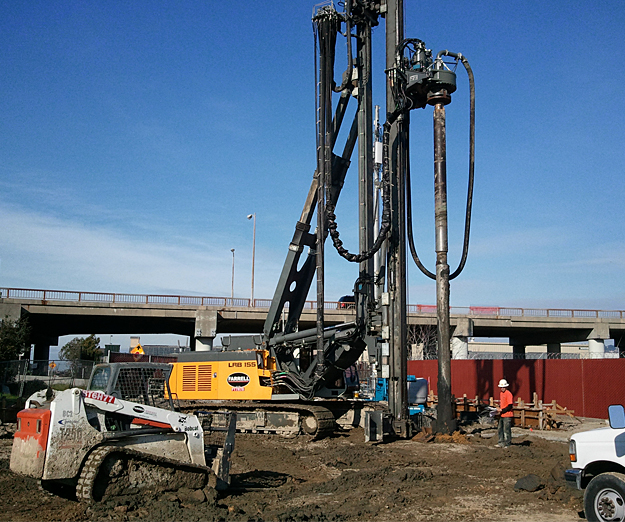 Berkeley Animal Center. 18-inch DDC by 30-feet deep.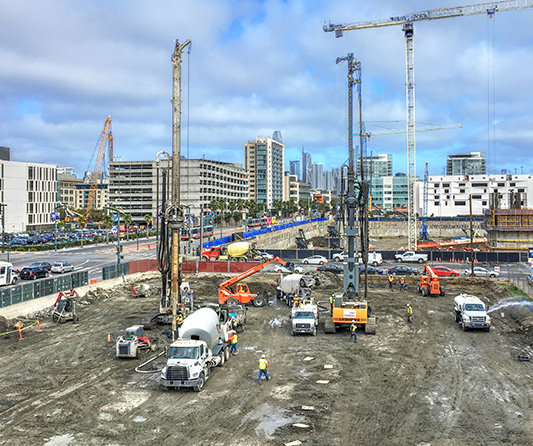 UCSF Center for Vision Neuroscience. 18-inch DDC by 10-40 feet deep.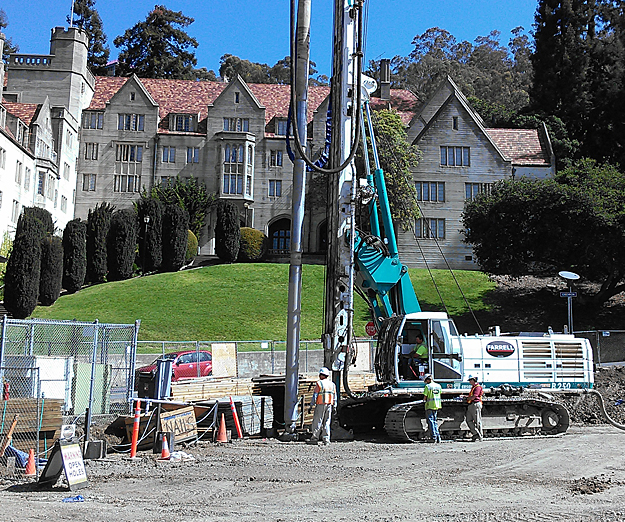 UC Berkeley Maxwell Field Parking Structure. 18-inch DDC and ACC by 38-feet deep.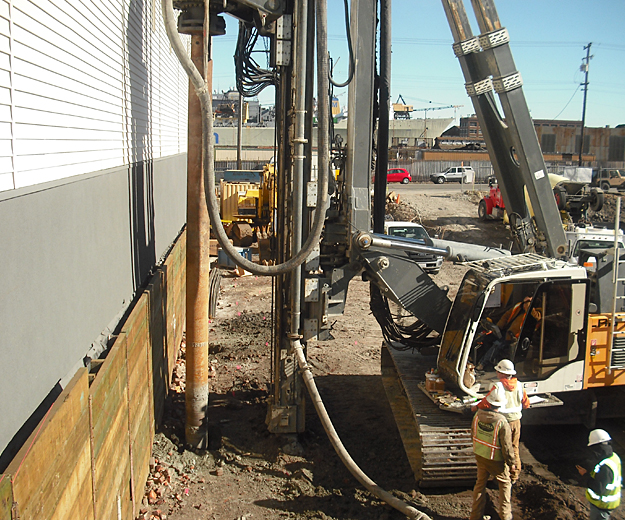 Mission Piers in San Francisco, CA. 18-inch DDC by 42-feet deep.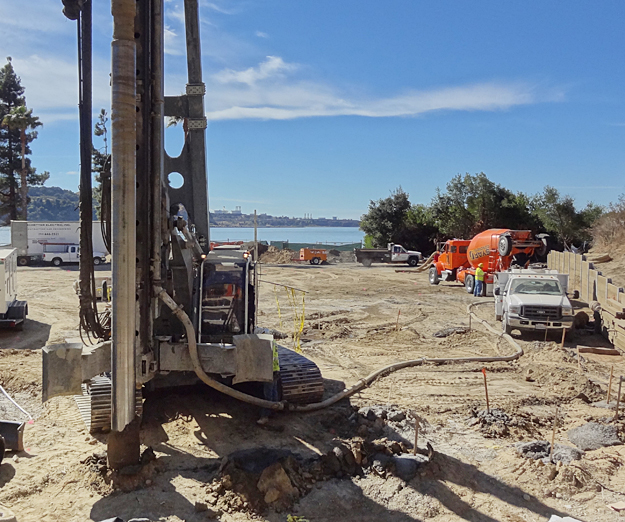 Cal Maritime Academy new Dining Hall in Vallejo, CA. DDC - 18" diameter by 38' deep.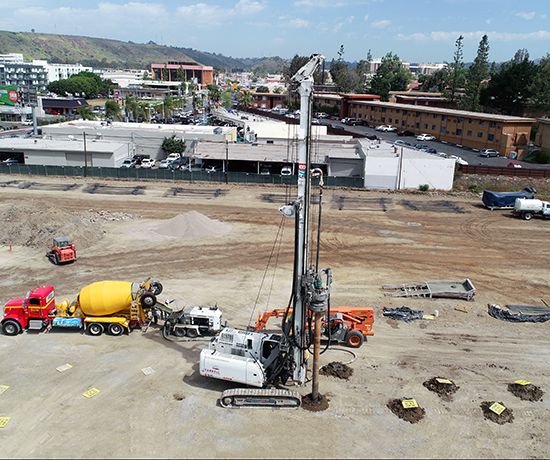 Mission Gorge, San Diego. 16-inch DDC by 32-feet deep.
Overview
Auger Cast Column™ and Drill Displacement Column™ (ACC/DDC) are deep, partial and full displacement, well-defined, pressure grout, ground improvement methods. ACC/DDC are used to improve any soft/loose soil or contaminated soil. The ACC/DDC process constructs strong, engineered, "composite ground" for the support of foundations and slabs. DDC uses a displacement drill to compact soil in the ground, resulting in higher capacity and lower spoils. For DDC, large cavity expansion in the displaced soil produces the increased strength and ground improvement. ACC/DDC strengths are enhanced by the pressure grout effect during construction. ACC/DDC increases bearing capacity, increases soil stiffness, reduces soil compressibility, increases soil resistance to liquefaction, and increases composite soil shear strength. ACC/DDC construction produces low noise and no vibration. ACC/DDC composite ground supports heavy loads on conventional foundations, slabs, and mats with uniform and reduced settlement.
ACC/DDC Applications
Support foundations, structural mats, slabs, embankments, MSE walls, and industrial foundations. The ideal applications for ACC/DDC:
Deep, soft and loose soil sites and bay mud/sensitive soil sites.
Compressible soil sites.
Contaminated soil and undocumented debris fill sites.
Groundwater protection regions.
Sensitive sites with vibration concerns near critical structures.
Sites near occupied buildings and in dense urban areas.
4-Step Construction Process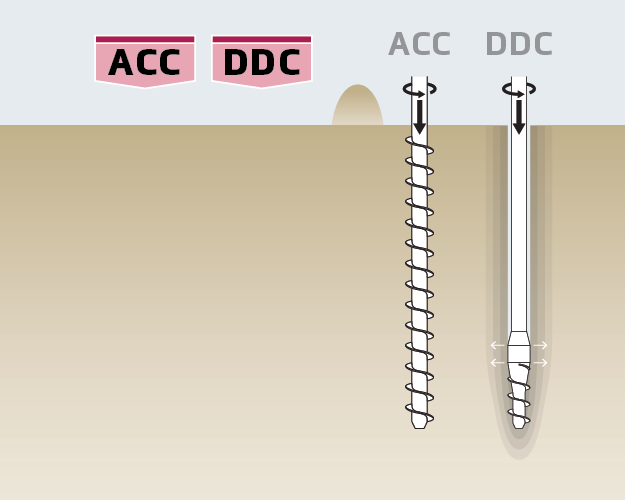 STEP 1
Heavy crowd + high torque = drill displace to the design depth. Install cavity expansion.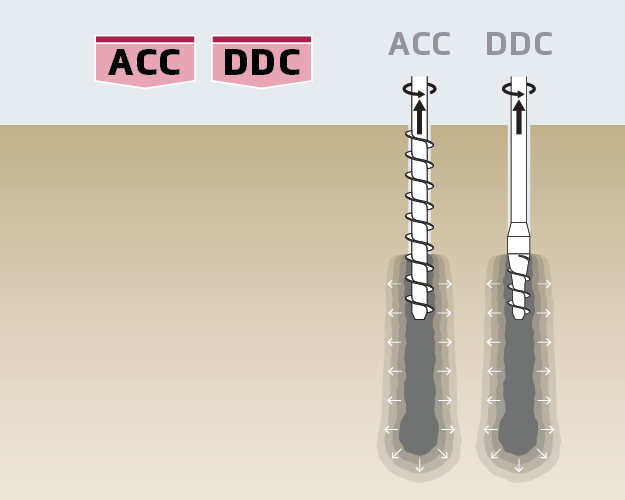 STEP 2
Withdraw auger & pump grout under pressure. Install pressure grout effect.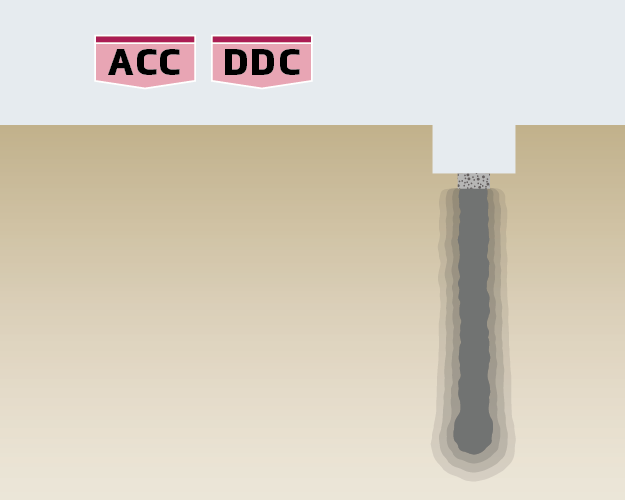 STEP 3
Install aggregate cushion over DDC to minimize punching shear and decouple seismic forces.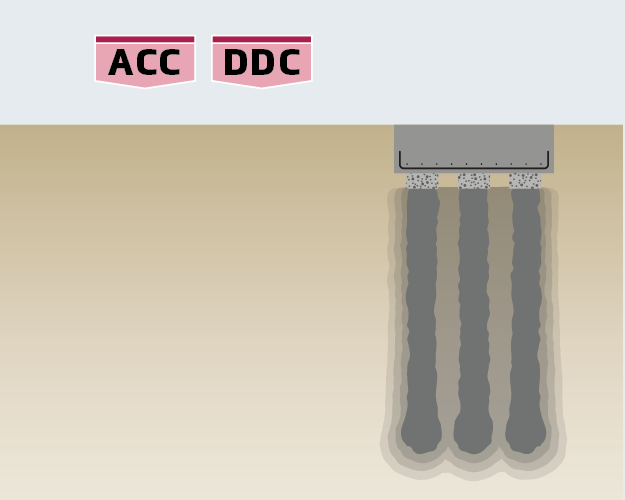 STEP 4
Finished ACC/DDC with ground improvement and footing and/or slab above.
Technical Details
Auger Cast Column™ and Drill Displacement Column™ (ACC/DDC) methods are innovative upgrades to rigid inclusion ground improvement for foundation support. With an expanded base, ACC/DDC achieve higher bearing capacity than other rigid inclusions. ACC use partial displacement, continuous flight augers in dense soil regions. DDC use a full displacement tool that is shaped to laterally displace and compact the adjacent soil into the ground, forming strong, "composite ground." The displacement tool and the pressure grout effect result in a coarse sided sand-cement column with finished diameters greater than 100% of neat tool diameter. The soil displacement produces cavity expansion effects that 1) increase shear strength, 2) increase density, 3) increase over-consolidation, 4) reduce void ratio, and 5) increase stiffness of the composite ground. The physical benefits of ACC/DDC construction result in reliable, deep, high capacity, ground improvement columns.
Type 1 ACC/DDC include engineered grout. Type 2 ACC/DDC include rebar for ductility, higher strength, and to resist tension forces. ACC/DDC use a gravel cushion to reduce and distribute punching shear and to decouple foundation lateral forces. Gravel cushion thickness is 12 to 24-inches. Full-scale load tests to 200% confirm the design bearing capacity. In some cases, cone penetration tests confirm density of composite ground between groups of ACC/DDC.
Farrell uses heavy, fixed mast, piling drill rigs to install ACC/DDC. Farrell operates Leibherr, Casagrande, and Bauer rigs. These rigs install ACC/DDC to depths of 10 to 80 feet. Farrell installs ACC/DDC with tool diameters of 14, 16, 18, and 24-inches. The rigs are equipped with electronic monitoring to record drill torque, drill depth, drill speed, grout pump pressures, and grout volume.
ACC/DDC are strong, displacement, pressure grout, ground improvement systems that support your project to Go Vertical with Confidence®!
Auger Cast Column and Drill Displacement Column are the trademarks of Farrell Design-Build Inc.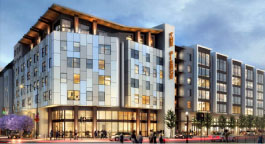 The Pierce
San Jose, CA
"I was pleased with the Farrell crew. They were great to work with. Ken Winters managed his crew and equipment well. I look forward to more work with Farrell."
Gary Cunnington
Superintendent
Clark Builders

Auger Cast Column™ & Drill Displacement Column™
Geologic Hazard Application

Soft/Loose Soil

Liquefaction

Contaminated Soil

Lateral Spread

Slope Stability
14, 16, 18, 24 in dia
10 – 80 ft deep
Contaminated Soil – DDP
Sand (SP, SM, SC)
Silt (ML, MH)
Clay (CL, CH)
Undocumented Fill
High stiffness & High capacity – Type 2
No vibration
Low spoil – DDC
Uplift-tension hold-down
Well defined concrete / grout column
Liquefaction mitigation
Impermeable
Rigid inclusion
Gravel cushion
Grout with low spoil
Concrete cleanup
Flat stable pad
Rigid inclusions
Concrete piers
Driven piles
Geopier®
Soil mix columns