Marshall Hotel, Hyatt Centric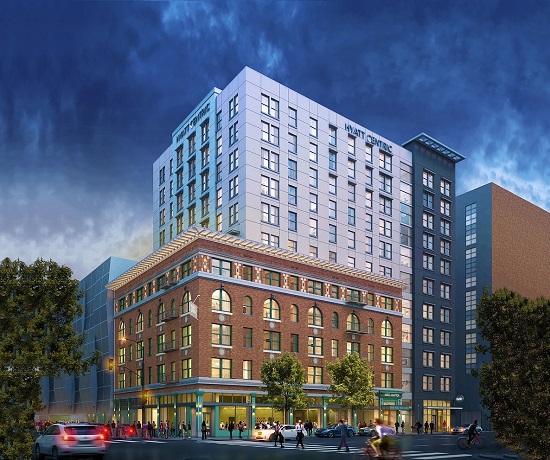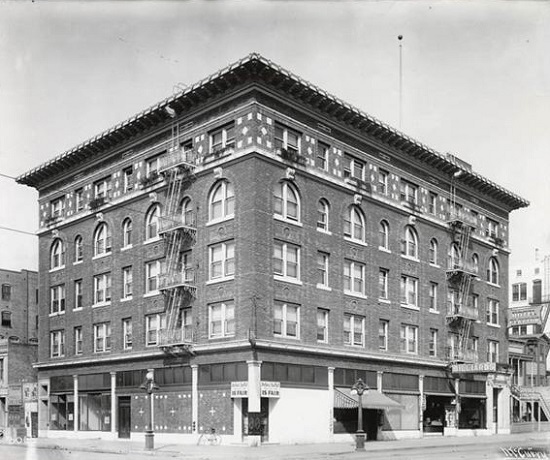 Marshall Hotel, circa 1912.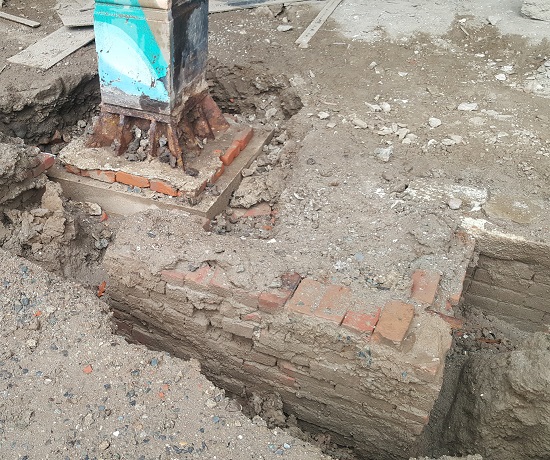 Existing historic brick and concrete foundations.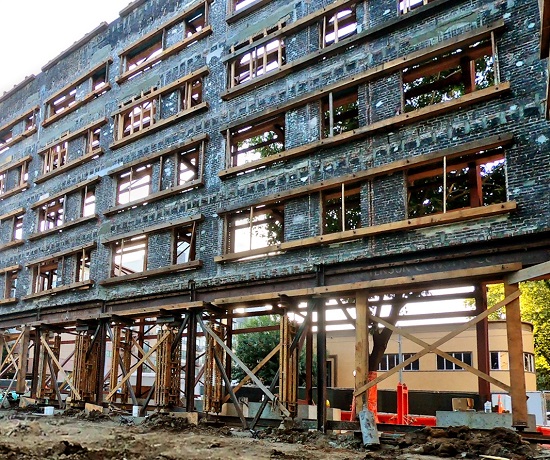 Helical Piles (HP) supports new grade beam beneath the vertical shoring.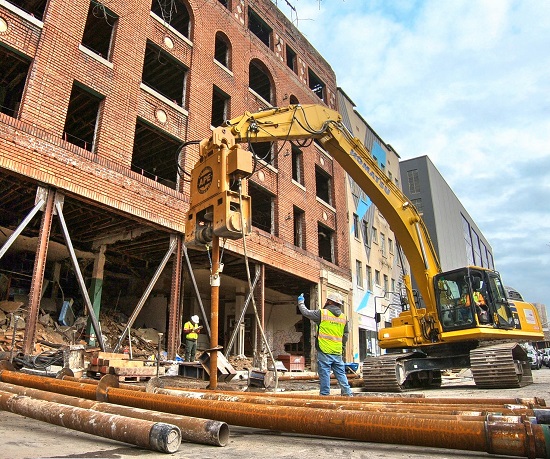 Drilled Pipe Piles (DPP) installed 4 and 10 feet away to support the steel frame exoskeleton for full-height lateral support of the brick facade.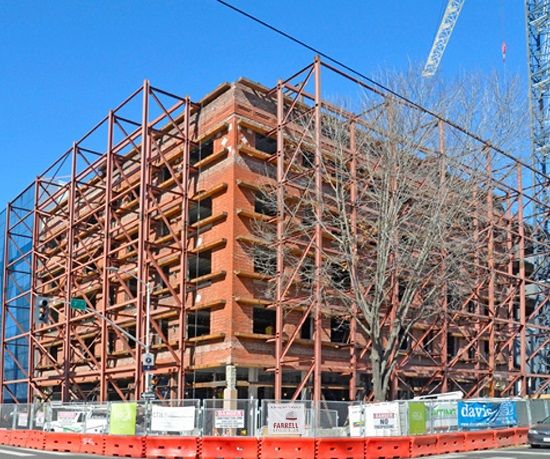 Steel frame exoskeleton for lateral support of the historic brick facade.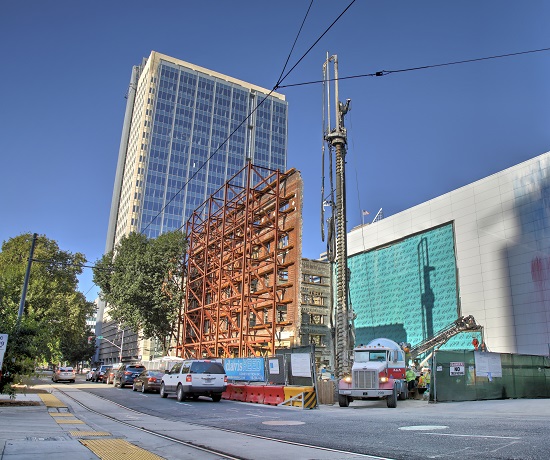 Auger Cast Pile (ACP) construction.




Soft/Loose Soil

Liquefaction
Click here to watch our Marshall Hotel Case History Video!
Project Summary 
Built in 1910-1911, the Marshall Hotel is a 5-story historic monument that resides in the heart of Sacramento, just blocks away from the California State Capitol building and directly adjacent to the Golden One Center Arena.  Made of century-old brick and steel, this landmark hotel was named in honor of James Wilson Marshall who first discovered gold at Sutter's Mill in 1848, spurring the California Gold Rush.
Farrell was challenged to design and build 4 separate foundation solutions in order to preserve two ornate, 5-story, exterior walls of the original 109-year-old brick building with the intention to use the historic brick façade as the focal point for a new 11-story Hyatt Centric Hotel (a brand of full-service Hyatt hotels located in prime destinations and designed for guests to experience the city at it's core).
The site's subsurface soil consisted of undocumented fill with poorly graded gravel with sand and silt with occasional brick, wood and metal debris to depths of about 10 to 12 feet. Soil beneath the fill at depths from 10 to 50 feet was identified as "recent" alluvium with interbedded, soft to medium-stiff silt (ML) lean clay (CL).  Soil at depths from 50 to 55 feet consisted of "recent" alluvium with loose to medium dense, poorly graded sand and silty sand with fines content ranging from approximately 10% to 40%. Soil at depths below 55 feet consist of "older" alluvium with dense to very dense, poorly graded gravel (GP) with sand and poorly graded sand (SP) with variable amounts of fine gravel. This layer is the bearing layer for most deep foundation systems in Downtown Sacramento. During the Sacramento River crest periods, depth to groundwater was measured at approximately 11 to 12 feet below street level (Geocon 2017).
The project team of davisREED (contractor), HRGA Architects, Buehler (structural engineer), Geocon (geotechnical engineer), and Farrell (design-build geocontractor), were presented with enormous challenges to preserve this historic monument: 1) stabilize and preserve a century-old, fragile brick walls by installing pile support for both the walls and temporary exoskeleton, 2) entirely demolish the building's interior, 3) design and install deep foundation piles to support the construction of a new 11-story steel-framed tower within the brick walls of the existing Marshall Hotel , and, 4) all while in the middle of a busy downtown area, within an extremely tight project site and without knowing the full extent of the existing conditions that lay beneath the site.
As existing conditions were uncovered, Farrell's engineers were forced to design and redesign deep foundation plans for 4 separate phases.  In Phase 1, Farrell successfully installed 24, 14-inch diameter Helical Piles (HP) to depths of 45-55 feet beneath the existing brick façade to strengthen and support the wall's vertical loads.  Phase 2 required 44, 14-inch Drilled Pipe Piles (DPP) beneath the city sidewalk to support the falsework structural steel exoskeleton that would provide temporary lateral support for the brick walls during interior demolition. DPP were placed 4 and 10 feet away from the brick façade and installed to depths of 44-55 feet.  In Phase 3, Farrell installed 98, 18-inch Auger Cast Piles (ACP) to depths of 75-feet support for the new hotel foundation while controlling total allowable settlement to less than 1-inch. Finally, in Phase 4, Farrell designed and built cantilever soldier beam and wood lagging shoring for the elevator and fire water tank excavation inside the new hotel.
Farrell interacted on a minute-by-minute timeframe with davisREED and the team of engineers to solve the foundation support challenges.  The timely cooperation between Geotechnical and Structural engineers made this project a huge success with the on-time delivery of the planned foundation support at a cost that was in-line with project budgets and with no damage to the historic brick façade walls.
Through each challenge the Marshall Hotel presented, the collaboration of highly skilled geotechnical and structural engineers and construction teams successfully reclaimed a piece of Sacramento's history, helping Marshall Hotel Go Vertical with Confidence!®,once again.
Click here to watch our Marshall Hotel Case History Video on Youtube!
AWARD WINNING PROJECT
2020 CalGeo GeoContractor Outstanding Project Award
2020 ASCE Historic Renovation Project Award